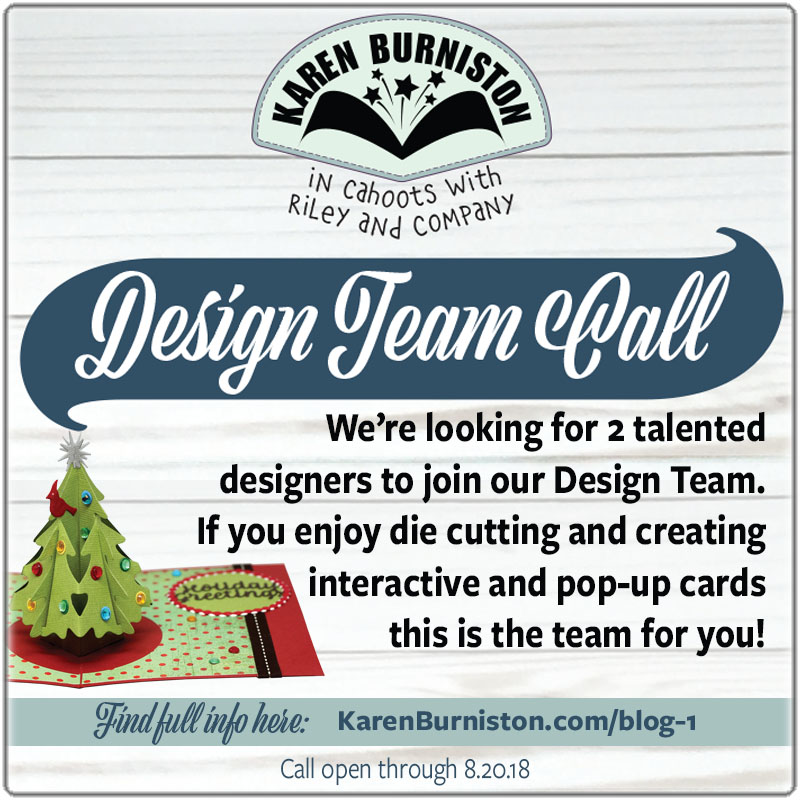 Karen Burniston/KB Riley LLC Design Team Call
Design Team Requirements:
6 Month Term (September 2018 – February 2019)

Promote Karen Burniston/KB Riley LLC die collection by completing at least 2 'anytime' blog posts per month

Participate in our Designer Challenge each month

Participate in any Special Event we may have from time to time which may include DT Collaborations with other companies and or blog hops.

Must have an active blog and post your projects onto your blog as required above.

Be able to take good quality photos of your cards/projects

Must have a Facebook Account - This is where our DT group is located and where any information about our DT can be found and where we help inspire each other.

Must share projects/blog links to social media via Facebook Groups and/or Instagram

We do not require exclusivity on our DT and members are free to join other teams that do not directly compete with our specialty brand product of interactive die sets.
Benefits:
You will receive a full set of production dies ahead of each release plus a packaged set of dies after the release

Ability to earn extra income by participating in our pay-per sales affiliate program (Share-a Sale)

Ability to receive paid assignments when we are exhibiting at Trade Shows

If you teach or demo at stamp stores you are encouraged to use your dies for classes, demos, make 'n takes, etc. We as a company can also help with putting DT members in touch with local stores and accounts who are looking for teachers.

Design Team members can purchase from our website at a discount.

Any artwork you create each month is yours to keep, you do not have to send it to us, unless the artwork you have created is a paid assignment.

Be part of an amazing, friendly and supportive group
How to Apply:
Send an email to: DesignTeam@karenburniston.com which includes the following information:

Name and contact information

A link to your blog

Links to other social media including Facebook; Instagram; Pinterest; YouTube etc.

A short bio telling us about yourself, crafting style and why you would like to be part of our Design Team

Current and past design teams you have been on

3 projects that best reflect your style, preferably using Karen Burniston/KB Riley LLC dies (please attach as JPEG files)

Any other information you believe will be relevant (teaching background, experience as a demonstrator etc.
Deadline:
Entries must be e-mailed by 5 pm, CDT August 20th 2018
Selected designers will be contacted personally by August 30th 2018
Karen Burniston Blog
Keep up with Karen's projects, videos and class schedule by visiting her blog. Click below: